Genre: Contemporary Romance
Release Date: February 6, 2017
1 part tatted-up single dad restauranteur
1 part effervescent younger wine rep
Spice generously with sexual tension
Combine at a foodie conference
Serve steaming hot


At not-quite forty, with his son a high school senior, Bert's going to be dining alone.

His restaurant's wine rep has a few ideas on how he might sate all of his appetites.

He hasn't been buying what she's been selling, but she's only in Memphis for a few months before moving back home to California…and he is only mortal.

Besides, it's not like he's going to fall in love for the first time in his life or anything crazy like that, right?
My Review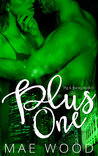 Plus One by Mae Wood
My rating: 4.5 of 5 stars
I'd heard lots of positive comments about the Pig and Barley series, so when I got the opportunity to read an arc of Plus One I jumped at the chance. Their relationship doesn't get off to the smoothest of starts and pleasingly, whilst there is a very strong attraction, there isn't instant love between the hero and heroine.
Most of the book builds up to the point where Drennan will be returning to California, and it wasn't until it arrived that either character seemed to think about the(ir) future. What happens next was not what I expected, the author clearly knew how she wanted the story to develop and didn't feel the need to fall into predictable romance clichés.
There are some lovely sub plots and side stories but most of the book is just about the developing relationship between Bert and Drennan. They are two well developed and entirely believable characters, with undeniable chemistry. The whole story feels 'real', especially the scenes with Bert's family, with down to earth activities and locations.
The only negative I have about the book is that it skips days/weeks between one paragraph and the next. This threw me a few times and I had to re-read the paragraph before I realised what had happened. However once I got used to this it became less of an issue.
View all my reviews
Mae Wood is a mommy, bookworm, and lawyer (in that order).

A while ago Mae decided that she needed to give up the fear that she couldn't write "great literature" and write what she wants to read.

And she wants romance. And laughter.

She wants heroines who are brave. Brave enough to be themselves and brave enough to fall in love.

She wants men who are strong and kind.

Mae lives in the Southeastern United States and sets her books in hot and steamy Memphis, Tennessee.